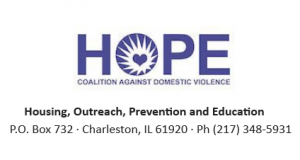 Job Description – Charleston, Illinois – Day Time Shelter Advocate
HOPE is dedicated to ending domestic violence by providing a wide range of services for victims and facilitating social change. We are currently seeking a part-time Shelter Advocate for approximately 24 hours per week. This position serves victims of domestic violence and their children in a shelter setting. The ideal candidate has a strong work ethic, the ability to work independently with people in crisis situations, the awareness of available social services in east central Illinois, excellent verbal and written skills, and good communication skills. Must be willing to work flexible hours during the day Monday through Friday and some holidays. Reliable transportation, auto insurance coverage and background checks required. 40- hour domestic violence training (provided in agency if needed).
If interested in applying please visit our job posting by clicking this link.