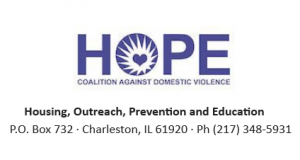 Job Description – Tuscola, Illinois – IDVA Advocate
HOPE is dedicated to ending domestic violence by providing a wide range of services for victims and facilitating social change. We are currently seeking a full-time Illinois Domestic Violence Advocate (IDVA). This position will be responsible for coordinating our services in Douglas County Illinois through our newly established Tuscola location.
This position will provide direct services to victims of Domestic Violence that include but are not limited to:
advocacy and support
information/referrals
community education
individual and/or group counseling
This position requires the ability to:
work independently
utilize sound judgement
the capacity to respond to crisis situations in a professional manner
the capability to balance priorities and tasks
become 40-hour domestic violence trained
The ideal candidate must have:
excellent verbal and written communication skills
a Bachelor's degree in human services or a related field
prior related work experience
a driver's license, reliable transportation, and proof of insurance
the ability to complete the required background check
This position answers to the Direct Services Coordinator. It may require some evenings, and flexible hours. Bilingual candidates are encouraged to apply.
Successful candidates will demonstrate an ability to commit to the philosophy and programming at HOPE of East Central Illinois, which includes a commitment to survivors' issues, and a shared belief in helping to create a society free from violence. HOPE is an equal opportunity employer offering a competitive wage and benefits package.
To be considered for the position, candidates should submit a cover letter, resume, and three references to:
HOPE of East Central Illinois
c/o Direct Services Coordinator
P.O. Box 732
Charleston, IL 61920
Job Type: Full-time